Eye Associates is delighted to welcome new ophthalmologists to our team.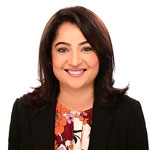 Dr Anagha Vaze completed her advanced training in Ophthalmology in Adelaide where she also undertook Fellowships in Medical Retina and Uveitis before coming to Sydney for a second Retinal Fellowship with Prof Mark Gillies at Sydney Eye Hospital.
Dr Vaze is a clinical lecturer at the University of Sydney where she is a part of the Inherited Eye Disease Unit at the Save Sight Institute, Discipline of Ophthalmology and has a special interest in visual electrophysiology. Dr Vaze is actively involved in medical student teaching and registrar training through the Save Sight Institute and Sydney Eye Hospital. She has an interest in clinical research and registries and has widely published in peer reviewed journals. She has a higher degree in research from the University of Sydney which was awarded for her work on post marketing surveillance of treatments of wet macular degeneration using the Fight Retinal Blindness! (FRB!) registry. She has been an investigator in multiple clinical trials of new therapeutic agents used for the treatment of blinding retinal conditions through the macular research group at the Save Sight Institute and Sydney Eye Hospital.
Dr Vaze will joining Prof Mark Gillies and Dr Adrian Hunt in providing our Medical Retina service and will commence with us on 19th October 2021.
We are also pleased to be joined by Dr Elisa Cornish who will be covering for Prof Gillies for the next few weeks. Dr Cornish completed her advanced training at Sydney Eye Hospital before undertaking her Fellowship in Medical Retina with Prof GillIes.