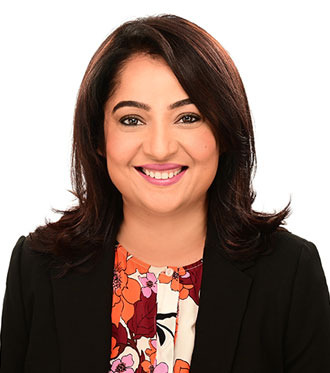 Dr Anagha Vaze M.B.B.S, DNB (OPHTHAL), MPHIL (USYD), F.R.A.N.Z.C.O
Clinical Lecturer, University of Sydney
Ophthalmic surgeon, Medical Retina & Uveitis Specialist
Dr Anagha Vaze is a Fellow of Royal Australian and New Zealand College of Ophthalmologists. She is a comprehensive Ophthalmologist with subspecialty training in medical retina, Uveitis (inflammatory eye disorders) as well as inherited eye disorders. These include the most common causes of visual loss - diabetic retinopathy, macular degeneration, and retinal vein occlusion. Dr Vaze is a highly experienced cataract surgeon with a strong interest in complex cataract surgery particularly in patients with retinal and inflammatory eye disease.
Dr Vaze studied medicine in India and after completing her Ophthalmology training there, she did advanced training in Ophthalmology in Australia including a Medical retina & Uveitis Fellowship at the Royal Adelaide Hospital, Medical Retina Fellowship under the supervision of Professor Mark Gillies at the Sydney Eye Hospital and General Ophthalmology training at the Flinders Medical Centre, Adelaide. Dr Vaze also recently undertook the Professorial fellowship under the mentorship of Professor Peter McCluskey at the Sydney Eye hospital for 12 months with extensive training and experience in the management of most complex eye disorders. She is a member of the Australian and New Zealand Society of Retinal Specialists (ANZSRS) and the Uveitis Special Interest Group.
Dr Vaze is a clinical lecturer at the University of Sydney where she is a part of the Inherited Eye Disease Unit at the Save Sight Institute, Discipline of Ophthalmology and has a special interest in visual electrophysiology. Dr Vaze is actively involved in medical student teaching and registrar training through the Save Sight Institute and Sydney Eye Hospital.
Dr Vaze is a clinician scientist with interest in clinical research and registries and has widely published in peer reviewed journals. She has a higher degree in research from the University of Sydney which was awarded for her work on post marketing surveillance of treatments of wet macular degeneration using the Fight Retinal Blindness! (FRB!) registry. She has been an investigator in multiple clinical trials of new therapeutic agents used for the treatment of blinding retinal conditions through the macular research group at the Save Sight Institute and Sydney Eye Hospital. Dr Vaze has been invited to speak at the national and international conferences and takes pride in offering the latest evidence-based medicine to her patients due to her strong research background.
Dr Vaze is personable, hard worker and a team player. She has an excellent patient manner and is a great communicator. She is fluent in English, Hindi and Marathi.