Eye Associates is delighted to welcome Dr Cheryl Au to our team.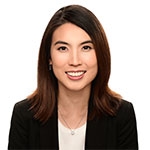 Eye Associates is delighted to welcome Dr Cheryl Au to our team. Dr Au will be joining Prof Mark Gillies, Dr Adrian Hunt and Dr Anagha Vaze in providing our Medical Retina service.
Dr Au specialises in the diagnosis and treatment of diabetic retinopathy, age-related macular degeneration, retinal vein occlusions and other macular and retinal conditions.
Dr Au underwent specialist ophthalmology training in the Sydney Eye Hospital Network where she attained experience in both general ophthalmology and various subspecialties. She is an experienced cataract surgeon and has supervised cataract surgery as the Professorial Senior Registrar and as an accredited EyeSi supervisor. She completed her Medical Retina fellowship at Westmead Hospital under the supervision of Professor Paul Mitchell.
Dr Au completed a Bachelor of Medical Science, Bachelor of Medicine and Surgery (Honours I) and Master of Public Health at the University of Sydney. She was awarded the University of Sydney Undergraduate Scholarship for Outstanding Achievement and was placed on the Dean's Honour list for Excellence in Academic Performance. She also received the Dr H G Chapman Prize and the Dr Charlotte Last Memorial Scholarship for her Honours thesis, and completed a Diploma in Primary Care Ophthalmology at the University of Edinburgh.